In this article, we show you how to use your phone's fingerprint scanner as camera shutter button. No root access is needed. Fingerprint scanners are now common in smartphones, but its functions are limited just to unlocking the phone or apps. Fingerprint scanners can be used for various other purposes too, for example, it is very convenient for taking photos, especially selfies. Read on to know how to use your phone's fingerprint sensor to take photos.
Dactyl is a simple app that makes fingerprint scanner as a shutter button for your camera app. Once installed, you can use your fingerprint scanner to take photos. Just open the camera app and your fingerprint sensor is ready to work as the camera shutter button. It is very convenient especially for taking selfies, even if the fingerprint scanner is located back or front of a phone.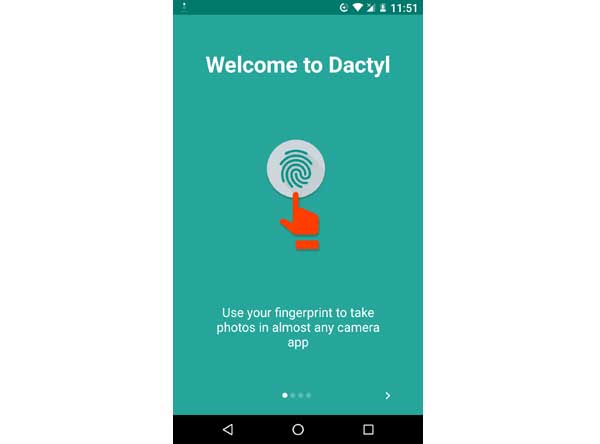 Dactyl supports almost all camera apps, such as Google Camera, Manual Camera, CM Snap, MIUI, Snapchat, WhatsApp, Instagram, and more. However, some camera apps cannot be supported, as they do not implement accessibility correctly.
In order to Dactyl to detect when a camera app is opened, you must enable it in the Accessibility settings. After installing the app, go to phone Settings > Accessibility > and enable Dactyl.
Note: You can use any of your fingers to take photos – no need to register your fingerprint.
Dactyl can be downloaded from Play store here. It is a paid app, but you can try the trial version before purchasing the app. If anyone knows similar free app that gives same function, let us know in the comment section below.