Samsung Galaxy S8's Grace UI and icons uncover a new aesthetic for Android smartphone homescreen. With custom launchers like Nova launcher you can also bring Galaxy S8's aesthetic beauty to any of your phone's homescreen, but it requires Galaxy S8's like icons and wallpapers. Graced UI bring Samsung Galaxy S8 like icons to your Android phone, which is also a free download on Play store.
Graced UI is a free and weekly updated icon pack based on Samsung Galaxy S8 icon. You can download it free from Play store and apply to your phone via any custom launcher. These icons can transform your Android phone's homescreen into Galaxy S8 homescreen, if you use them in conjunction with custom launchers like Nova, Action, Apex, etc.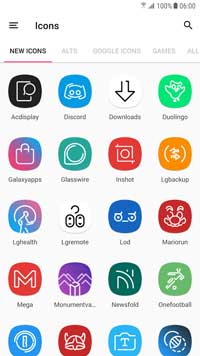 Though the number of icons included in this pack is very few, the developer promised that the icon pack will update weekly with more icons. So you will get more app icons in the future.
If you are looking for free Galaxy S8 icons for your custom launcher, Graced UI may be the best choice, as it is free and looks awesome.
Note that you can also change icons on your Android phone without custom launchers and without root access. Check this guide to know how to do it on your phone.
Also Read: How to Get Galaxy S8's Weather and Clock Widget on Any Android Phone without root.
Also Read: Download Galaxy S8 wallpapers.
Also Read: How to get Galaxy S8 Style Rounded Display Corners on Any Android Phone.
Also note that, to get real look of Samsung Galaxy S8 or S8 Plus, your phone's navigation bar also change to Galaxy S8 like one. You can do this without root access with 'Custom navigation bar' app, but unfortunately, it is not a free app.
Interested users can download Graced UI S8 Icon Packs free from Play store here.