Browser Version of Windows Store: Browse Metro Apps with Your Browser
Windows Store is growing with new apps each day, but missing a browser version of Store was a big limitation (you need Windows 8 or Windows RT to use the Store). Now, with a service called MetroStore Scanner, you can browse and discover Metro apps with your browser. You can search apps by category, filter by country and get details about latest apps – just as you do on Windows 8. I had mentioned similar service in a previous post.
There are thousands of apps to choose from in the Windows Store for Windows 8, and more are being added all the time. According to unofficial reports, the Store now has over 21,000 apps in several categories. However, there is no way to search this online store with a browser.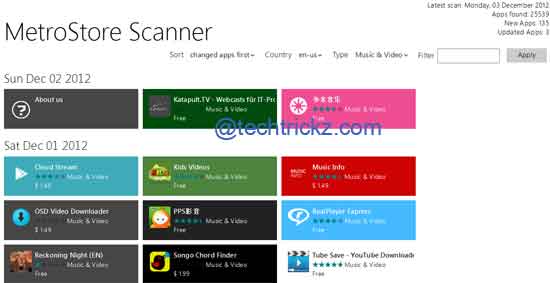 MetroStore Scanner solves this limitation. It lets you browse apps the same way you do on a Windows 8 device. You can search apps by category or filter by country to find a desired app quickly, even from your Windows 7 or earlier versions of Windows. Also, by clicking the "details" button you can head over to the official Windows Store page.
Of course, Microsoft has a browser-based version of the Store, but currently it has limited feature. It provides only details of an app; there is no search option or option for finding similar apps (via)