Did you just purchase a new Samsung Galaxy Phone? Looking for a simple solution to move all of your contacts, schedule, memo, message, photo, music, video, document, app list, wallpaper, call logs, WI-FI setting and other such data from your old phone to your brand new Galaxy phone? Samsung provides a free app called Samsung Smart Switch, which makes transferring data hassle free.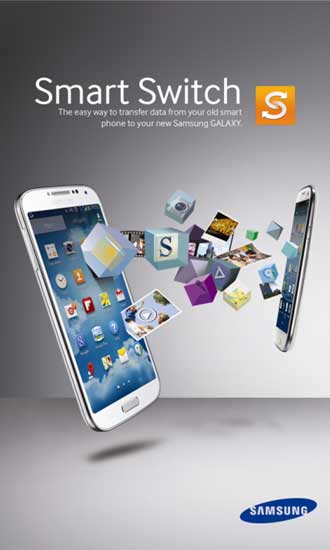 Samsung Smart Switch is available in two versions: Mobile version and a Desktop version. With both versions, switching to a new Samsung Galaxy phone has never been simpler and smarter, because you can instantly transfer all of your data to your new phone.
The mobile version lets you transfer data between your Galaxy phones wirelessly. It supports devices such as Galaxy S2, S3, S4, Note 1, Note 2, Note 8.0, Note 10.1, Grand, and Express and R style (Only models with NFC support).
To transfer data to your new phone, place both the devices close together (within 50cm), open the application in both phones and tap "Connect" button on only one of the devices. Select contents that you want to transfer and tap on "Transfer" button. It'll instantly transfer your personal data to your new GALAXY phones.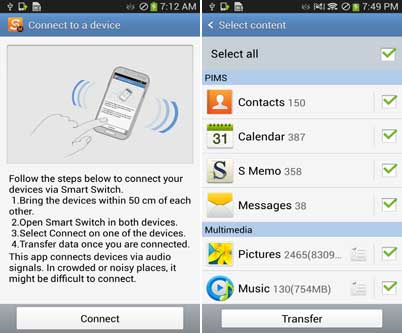 This application uses high frequency audio to establish a connection between devices, so it will not work on a noisy place. In addition, you shouldn't connect earphones or a Bluetooth headset to your device.
The desktop version (for Windows XP through Windows 8 and Mac OS X) lets you transfer data from a non-Samsung device (such as Apple, Blackberry, Nokia and LG) to a supported Samsung device, for instance, Galaxy S4.
It is an easy-to-use tool for transferring content from other smartphones to Samsung mobile devices. In Windows, it requires no installation. Just double-click the downloaded executable file and start using Smart Switch right away.
Samsung Smart Switch Mobile can be installed from Play Store. Desktop version can be downloaded from Samsung.