Nokia Theme Creator developed by Nokia is a tool to create beautiful themes for Nokia mobile phones (graphical and audio themes). Nokia Theme Creator is a family of Carbide.ui and enables the Symbian OS, S60 and Series 40 UIs to be customized with WYSIWYG layout.
Installing and using Nokia Theme Creator is so simple and you can easily create and customize your own themes like you can insert your photo, change clock element, signal meter, battery signal, icons, etc. Nokia Theme Creator provides access to more than 100 customizable theme elements in the Symbian UI.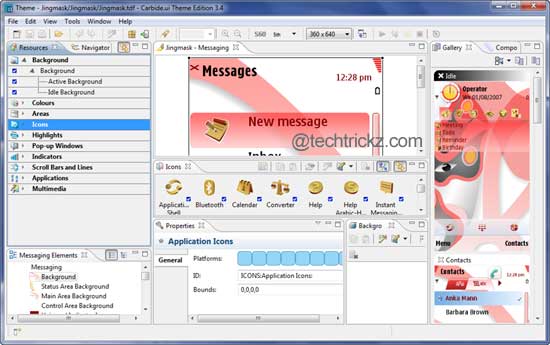 The latest Carbide.ui 3.4 Theme Edition also enables the creation of S60 Audio themes. Audio themes are supported on some of the S60 3rd Edition, Feature Pack 1 and later devices, such as the Nokia 5700 XpressMusic phone.
Carbide.ui 3.4 Theme Edition requires Microsoft Windows XP, Vista and Windows 7, 1GB Ram and 1GB free disk space.
Note: Nokia Theme Creator is a trial program. And to download, you should create a free account with Nokia Forum.  You can download Nokia Theme Creator Carbide.ui at here.