Android 8.0 Oreo based Rootless Pixel Launcher is now available for download. With this home screen replacement app, you can experience Android 8.0 Oreo's revamped sleek Pixel launcher on any of your phone. Rootless Pixel Launcher brings full features of Google Pixel Launcher on any Android phone and it does not require root access for installation.
With Rootless Pixel Launcher, you can experience Google now feeds, pull up Google search button, weather and calendar widget, swipe up to access app drawer, notification dots and more. Though the app does not offer customizations like Nova launcher, it brings pure experience of Google Pixel launcher, which is currently exclusive to Pixel smartphones.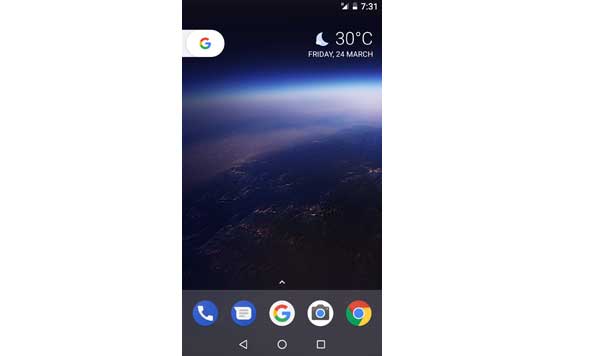 What is new in Rootless Pixel Launcher 2.1?
– QSB with transparent rectangle, Google Pill and Date/Weather.
– Different colors of notification dots.
– Notification dots backported to Marshmallow
– Google Now feed on the left of the normal workspace.
– Google Calendar app icon with the date.
– Pull down for notifications for Nougat.
– Show icon shapes on Android 8 without developer settings enabled.
– Pressing the date widget opens the default calendar app.
– Filter Google Now Launcher from the apps list.
– Samsung Secure Folder compatibility
– Backport of circle icons
Rootless Pixel Launcher does not require root access to be fully functional. If you are interested here is how to install latest version (2.1) Rootless Pixel Launcher APK on your phone.
Note that the launcher is not available on Play store, so you need to manually install the APK file and make it default home launcher.
Also Read: Android 8.0 Oreo stable version released (download and Install)
How to Install Rootless Pixel Launcher
1. Download latest version of Rootless Pixel launcher from here and save it on your phone.
2. Enable 'Unknown Sources' options in Settings menu, under 'Security' options.
3. Tap on the Rootless Pixel launcher apk to install it.
4. Go to settings > Home app, choose Pixel launcher and reboot your phone.
Note that the ported Pixel Launcher may not work well on every device. (Source)