Google Chrome was the first browser to add PDF viewer right in the browser to view PDF files; you don't need to install another PDF reader like Adobe Reader to view PDF files anymore. (Read here to know how to make Chrome as your PDF reader). Now, Firefox has following the same lane by adding PDF Viewer support to the latest release of Firefox 15. Here is how to make Firefox as your default PDF viewer.
In Firefox 15, the built-in PDF viewer is an experimental feature, so it is disabled by default (read below to know how to enable it). Even though, it is an experimental feature, from my experience I would say it is working (opening and reading PDF files) flawlessly.
How to enable PDF viewer in Firefox
Open your Firefox browser and type about:config in the address bar and hit enter key to launch Firefox's configuration page. Don't forget to accept the warning by clicking "I'll be careful I Promise" button.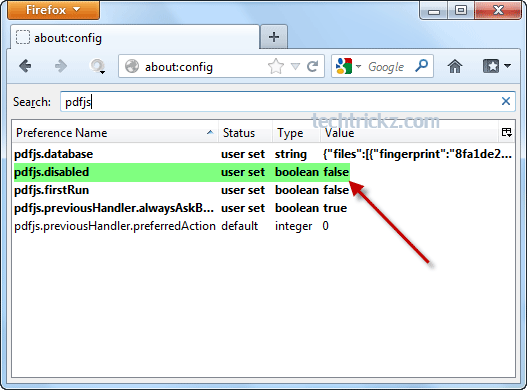 Now, start typing pdfjs.disabled in the search box to find the pdfjs.disabled option. By default, its value is "true". Double click on it to make its value "false".
Then, close about:config tab and try the new feature by opening a pdf document. For that, just right click on PDF document and select open with Firefox.
Final thought: By comparing both Chrome's and Firefox's PDF reader functionality, both are basic PDF viewers. In Chrome, there is no option to select individual pages, but Firefox has this, which is a plus point for Firefox.