How To Restore Deleted Metro Apps In Windows 8
Windows 8 CP features several Metro-style apps built-in to try and many more available at Windows Store for installing. In Windows 8, installing and uninstalling Metro-style apps is extremely simple. Here is how restore an uninstalled or deleted Metro App in Windows 8.
To install an app, from the Metro Start screen, select the Windows Store app or tile and click or tap it. Find the app you like by browsing the apps in the store or searching an app from the Charms Bar. Click or tap on the app to install it.
To uninstall an app, locate it from the Metro UI. Right click the mouse button or touch and swipe your finger gently. The app bar appears with uninstall option. Clicking on the uninstall option will immediately remove the app from your PC.
However, If you have accidently uninstalled or deleted a built-in app from your PC, you can easily restore it. Here is how it is.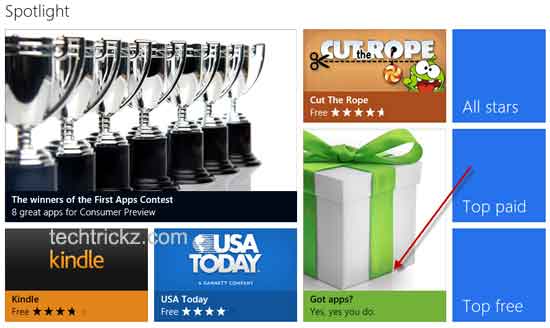 From the Start screen, click or tap on Store tile to open Windows Store. Now, under Spotlight, click on 'Got apps?' tile (see screenshot above).
It will show full list of built-in Windows 8 apps. Click or tap on the app that you want to install.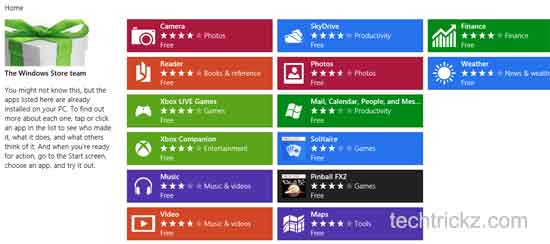 It will open a detail page, where you can see app's features, release notes and reviews along with install option. Click on Install button to install the app. [via]