Like to have a new look to your Windows 7 start button (Start Orb)? Here is a simple to use, portable tool- Windows 7 Start Orb Changer, which lets you replace custom Orb button with a click. Read on to know how it is
Unlike other similar tools, you don't need to fiddle with your Windows system file, even a novice can quickly the Orb button.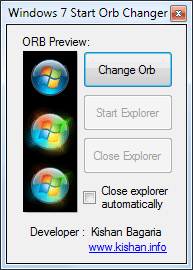 Just run the program, then click Change Orb button and browse to the custom Start Orb bitmap file and confirm the settings. (This program included 8 sample buttons; you can find more by just googling)
Windows 7 Start Orb Changer works on both 32-bit and 64-bit Windows 7 versions. Download it from here.