To celebrate the World Cup 2010, Kaspersky, the well-known security company has offers its Mobile Security 9 for free to protect your smartphone. You can use it free for the entire World cup period.
With this program you can hide or unhide phonebook entries, SMSs and call logs, locate a lost or stolen smartphone using the inbuilt GPS Find function, filter out annoying calls and SMSs, restrict your children's calls and SMSs.
Kaspersky Mobile Security 9 provides all you need to protect your smartphone from harm. It has real-time antimalware scanner, automatic updates, blocking of dangerous network connections and much more.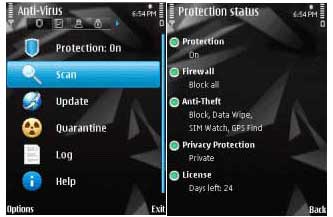 Requirements: Kaspersky Mobile Security 9 runs on smartphones with an Internet connection. It supports Symbian OS (Nokia smartphones) and Microsoft Windows Mobile.
More information and download at source