Learn how to unlock your Android phone quickly using Android's Smart Lock feature. You can use this feature to unlock your phone quickly in trusted places without entering the boring PIN, pattern or password. For example, locking your phone with a code might be less useful at home, particularly if you live alone, but at the same time it is necessary when you are away from home.
If you use Android's Smart Lock feature, just pressing the power button the phone will directly go to the home screen instead of the lock screen – no need to enter your security code to open your phone. It can be useful at times. For example, you can set your phone to unlock without a PIN or password when you are at home (or any trusted place), thanks to the device's GPS.
Smart Lock feature is available with Android Lollipop and above. The below guide let you know how to setup smart lock on Android.
Also Read: How to get Lollipop's Smart Lock Feature on Jelly Bean and KitKat
How to Unlock Your Phone Quickly Using Android's Smart Lock Feature
1. Go to phone Settings > Security > Smart Lock/ or Settings > Security > Trust agents > Smart Lock.
2. Once this feature enabled, it makes unlocking your phone a lot easier, based upon rules that you can configure.
3. To unlock your phone automatically at your home, select 'Trusted places'. It automatically selects your home place. For other trusted places, select 'Add trusted places' to other places.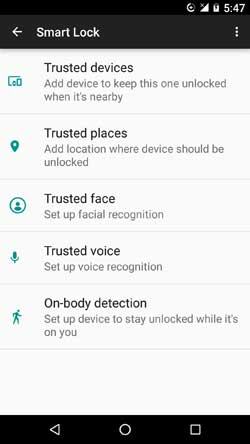 4. You can also use other rules to unlock your phone. For example, 'Trusted devices' rule unlocks the phone when your phone comes with in the range of a trusted Wi-Fi or Bluetooth device. Trusted devices can be your Smartwatch, headsets, Car audio or a Fitbit.
5. You can also configure Smart Lock with facial recognition to set up a Trusted face, with voice recognition for the Trusted voice option, and even On-body detection.
This On-body detection option uses the accelerometer to learn your method of walking, thereby unlocking the phone when it is being carried by someone with your unique gait.