Since Facebook went public in 2012, much has been changed since. The days that Facebook did not advertise are long behind us, and in its current state it is invested with ads. In your timeline and newsfeed, there are plenty of ads, but also 'Pages you may like', 'People you may know', 'Trending videos' and many other related posts. Facebook does not offer their users a way to opt out of this, but, browser extensions do.
Adblock Plus: There are plenty of extensions available for Chrome and Firefox, which claim to remove Facebook ads, but, Adblock Plus is the only trustworthy solution. Out of the box, it blocks all online ads on the web, and you can easily configure it to block other, non-sponsored elements.
How to remove Facebook ads
You can install Adblock Plus within a few seconds. After installation, you will automatically be protected against Facebook ads.
1. Go to www.adblockplus.org.
2. You can install Adblock Plus for Chrome or Firefox.
3. Other non-sponsored annoyances on Facebook can be blocked manually:
To remove other, annoying Facebook features such as 'People you may know' and/or 'Games you may like' can easily be removed by manually adding a few filters to Adblock Plus:
– For Firefox, click the red Adblock Plus logo on the bottom-left your browser: select "Filter preferences…" > "Custom filters" > "Add a filter group" > Right-click it and choose "Show/Hide Filters", and then go to "Add filter" on the right.
– For Chrome and Opera, right-click the ABP logo in the address bar, and click "Options" > "Add your own filters".
In the text-box, you can copy-paste the following code:
To block "People you may know", "Games you may like", "Games your friends are playing" and "Recommended pages", paste the following code in the text area: facebook.com##.egoOrganicColumn
To remove "Trending videos", "Most Shared", "Upcoming Concerts" or "Games Your Friends Are Playing" from your news feed, paste this: facebook.com##.uiStreamAttachments ._4hh
To remove "Recently Released Albums", use the following code: facebook.com##.uiStreamAttachments ._4hl
To block "Page X is posting about Page Y" use this filter: facebook.com##.storyContent > .storyUnconnectedPost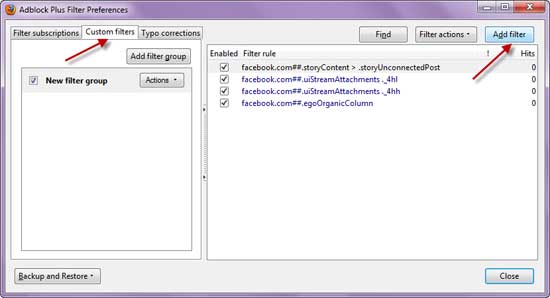 With the instructions described above, you will be able to block all the sponsored content on Facebook, as well as some additional elements that harm your experience.
Author Bio: Name: Rutger van Dijk. Bio: Open-source enthusiast. Loves to write about Google Chrome, Chrome Webstore, Chromium, privacy, security and Adblock Plus.