All Android phones come equipped with its very own launcher that does a perfectly good job. However, those looking for a different interface and a little more power can employ the assistance of third-party launchers like the below mentioned one like the Galaxy S4 Touchwiz Launcher and weather widget.
Samsung Galaxy S4 has an updated UI with TouchWiz 5.0 launcher that brings some enrichment and few cool features to the phone. If you like this new launcher and would like to implement it to your Jelly Bean powered phone, folks at XDA have ripped it for you.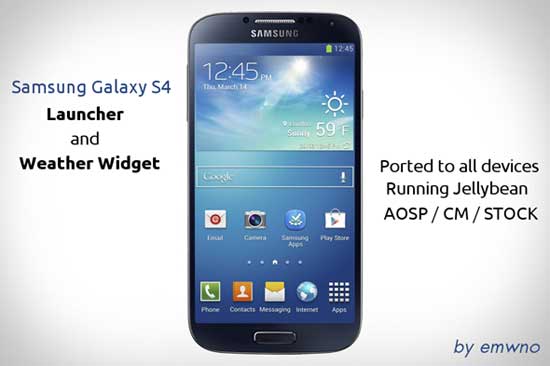 Galaxy S4's TouchWiz launcher and Accuweather widget ported for other phones works with almost all 4.1 or 4.2 Jelly Bean ROMs (Samsung, AOSP, Sony, LG CyanogenMod, AOKP, Paranoid Android and other ROMs) and it is available in different screen resolutions as well.
How to install Galaxy S4's TouchWiz launcher and Accuweather widget?
1. Based on your device's screen resolution (XXHDPI / XHDPI / HDPI / MDPI), download the appropriate launcher from the link given at the end of this post.
2. Once downloaded, move both (launcher and weather widget) to your device's SD card.
3. Reboot your device into recovery mode. In recovery, make a backup your phone.
4. Now, install the zip file you just copied to your device's SD card by selecting "install zip from sdcard" option.
5. Finally, wipe cache and dalvik cache (advanced option), and then reboot your device.
Enjoy Galaxy S4's TouchWiz launcher and Accuweather on your phone. Like Galaxy S4, this launcher also supports 7 home screens and the pinching on the screen would bring the home screen edit options.
Note: Just in case, the launcher and weather widget apps do not show up, navigate to the System/app folder with a root file manager app, find the AccuWeather.apk and SecLauncher.apk, and fix the permissions by settings it as rw-r-r.
Galaxy S4 Touchwiz Launcher and Weather Widget can be downloaded from the source here.