Xiaomi Mi 6 official MIUI theme is now available for download, which you can install on both Global and Chinese ROMs. The theme turns your Xiaomi device into the just launched Mi 6. Highlighted features of Xiaomi Mi 6 theme include 3D color changing lockscreen and homescreen, lockscreen gravity sensor, and dynamic desktop weather panel. Read on to know how to install official Xiaomi Mi 6 theme on your phone.
The just launched Xiaomi Mi 6 comes packed with amazing features, great hardware specs, and stunning design. It comes with the latest Snapdragon 835 10nm processor (it is in Samsung Galaxy S8), 6 GB of RAM and 64GB/128 GB of internal storage. It also features 5.15-inch display, four-sided 3D glass, under-glass fingerprint sensor at the front, dual camera, 3350mAh battery, and more.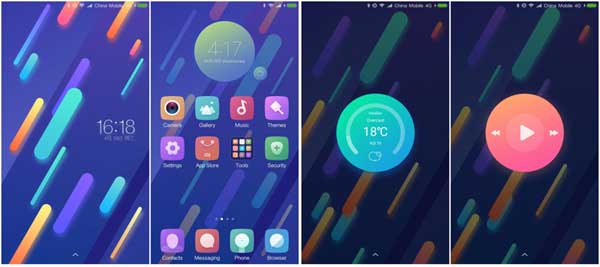 Comes to the Mi 6 official MIUI theme, the theme comes with new 3D color changing lock screen and home screen. With this feature, you can see a different color from every angle. Also, the lockscreen gravity sensor brings various information when you sway your phone left or right (this feature will not support all devices, including Redmi Note 2).
Highlights of official Mi 6 theme:
1. 3D color changing: lockscreen & desktop support dynamic color changes, offering various color combination from different angles

2. Lockscreen gravity sensor: when swayed to the left, dynamic weather panel will appear on lockscreen, supporting GPS & temperature update; when swayed to the right, music panel will appear, supporting dynamic lyrics display.

3. Dynamic desktop weather panel: when tapping the round weather panel, it spins to dynamic weather panel, with 3D color changes.
How to install MIUI Theme on Xiaomi Phone
1. Download Mi 6 theme [HERE] and save it on your phone (with .mtz extension)
2. Now, open the 'Themes' application from app drawer (or go to Settings > Themes).
3. Select 'Offline' tab, scroll down and tap on 'Import' button.
4. Locate your theme and tap on the .mtz theme file (you just saved).
5. Select the theme, apply it and then reboot your phone.
(Source – MIUI Forum)