Automatically Post to Facebook And Twitter From Google Plus
By Kannan on Jul 12, 2011
@techtrickz
If you are addicted to Google's new social network Google Plus, but want to share what you posted on your Google Plus circle to your Facebook and Twitter right from your Google Plus account, here is a simple solution. The Start G+ chrome extension helps you do that easily.
The extension automatically post to Facebook or Twitter whenever you share something on your Google + circle. However, you can turn on/off this feature with a click.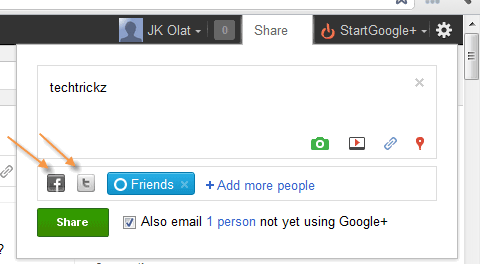 After installing the Start G+ extension, a new Facebook and Twitter toggle buttons appear near to the native circles tabs below status space. To log into facebook, select the "Login with Facebook" menu items in the StartGoogle+ Toolbar menu. You do not need to explicitly login with Twitter.
Now while updating Google Plus profile you can select to send the same message to other social platforms by toggling the facebook and twitter icons that appear above the Share button

The extension also adds a Gmail inbox notifier to the top bar. Clicking on the Gmail icon shows a menu with the unread messages that let you access your emails directly inside Google+.
Download StartG+ from Chrome Web Store
Kannan
is a computer and Android enthusiast, a blogger by passion and a tech freak. His always ready-to-help attitude, knowledge and hard work is what drives him.
Latest Updates

Kannan | Dec 17, 2014

If your Moto G 2013 stuck in bootloop after updating to Android 5 Lollipop, here are some ways to help you get out of bootloop and get your phone...

Advertisement

Find us on Google +

Find Us On Facebook

How to Guide
Gadget & Mobile

Internet & Browser

Security Tips
Copyright © 2014 - Do Not copy content without written permission. All images and trademarks displayed are property of their respective owners.