Google Chrome may be one of the internet's most secure browsers, but that doesn't mean its safety performance can't be improved. Here is a simple tutorial on how to tighten up chrome's security by controlling auto loading of flash and java using a built-in option 'Click to Play'.
Flash and Java are the two most insecure plug-ins. If you have no control over them, there are chances for malware infection through these plug-ins when you going through some shady websites.
Google Chrome has an experimental feature called 'Click to Play', which blocks automatic loading of Flash and Java content. You can only enable them by clicking at the content.

How to enable Click to Play feature?
Run Google Chrome and type "about:flags" in the address bar and hit Enter.
Locate 'Click to Play"' feature in the list and click enable. Then scroll down to the bottom of the page and then click on the Restart button.

Now, go to Tools – Options – Under the Hood – Content Setting. Click on Content Setting and locate Plug-ins on the list. Enable 'Click to play' option.

Click the 'Manage exception' button if you want to specify website that you want to turn off this feature. For example, you can add YouTube in the exception list.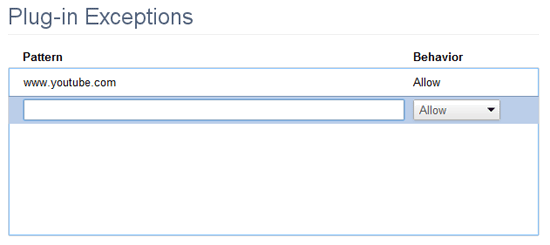 That is all. Check how it works by visiting sites like YouTube, DailyMotion, etc.