Read Mode is the new feature that Mozilla is planning to implement in the upcoming build of Firefox browser. Android version of Firefox has already this feature and now Mozilla is working on desktop version also. This feature enables distraction free webpage text reading by stripping out all kinds of advertisements and extraneous layout from webpages.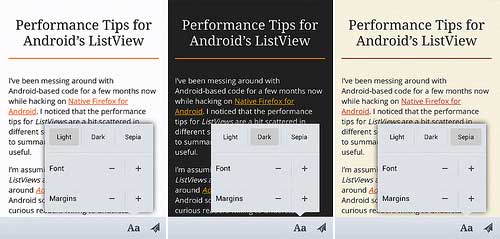 Read Mode isn't a new feature for browsers. Apple was first introduced Reader function on their browser Safari and extensions like iReader, Evernote Clearly, etc. are available for other browsers.
As it is yet to incorporate in Firefox, we cannot guess how the desktop version of Reader Mode will look like at this time. On Firefox Android version, the Reader Mode has a minimal UI, but very configurable. You can set the color scheme (light, dark, and sepia), font size and margins the way you want through a simple set of controls.
According to a blog post by Mozilla engineer Jarod Wein, the Reader Mode for desktop Firefox may be available early this December, or it may even available on Firefox 17, which is scheduled to release on November 20 (via – Ghacks).