The popular email client Thunderbird gets Do Not Track privacy function – a privacy feature available on all major browsers to enable users to opt out of being tracked on websites. Mozilla has already implanted Do Not Track in the latest nightly build of Thunderbird 15, which enables users to set their email client to stop email tracking or send a "please don't track me" request to email marketing agencies.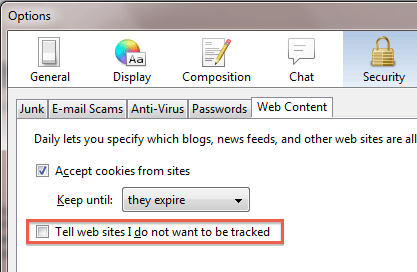 Why Do Not Track (DNT) privacy feature in an email client? Tracking happens in a variety of ways, not just via tracking cookies, but can also through email messages, Mozilla says.
"Sometimes email messages you receive contain external images — images that need to be loaded from the web to display the entire content of the message. This includes pixel tags and clear gifs. When your mail client renders the message, it has to go fetch the images from the web using the same technologies as a web browser"
Email marketing agencies can make use of this technique to track which messages you read, which links in messages you click, so that they can provide more customized messages in the future.
Final thought: At present, DNT in Thunderbird can't really do anything for you. As it is completely depends on each tracker's goodwill, either the trackers start supporting the ability or wait for regulatory agencies to apply pressure, however, it is a great initiative from Mozilla [Via -Mozilla blog]