In Windows 8.1, Microsoft has made many changes and I had mentioned many of them in previous articles. There is a change to the Windows Explorer; it has been now renamed File Explorer as well as all the local storage and removable storage are grouped together under a single heading of Devices and drives.
If you plug in a USB drive, camera, or other storage device to your Windows 8.1 PC, your drive icons are rearranged and show mixed with local storage in File Explorer. If you find it is annoying, you can easily separate removable drives from local storages. Here is how it is.
Important: It is very easy to separate removable drives and local drives in Windows explorer in Windows 8.1, but it won't work if the removable drive formatted in NTFS file system.
Procedure:
Click Win + E keys to open File Explorer. Then, right click an empty space – choose "Group by" – and then "More" .
Check the box labeled "File System" and then click OK to save the settings.
Now, once again right click an empty space – choose "Group by" – and then select "File System". That's it! See changes in the below screenshot.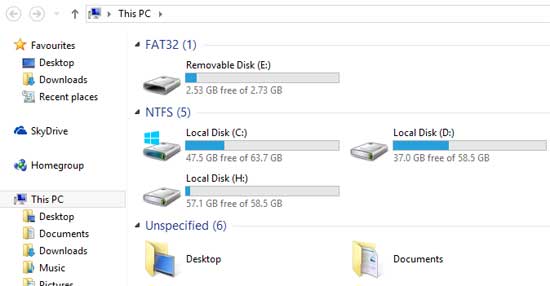 Note: Whenever you decide to go back to the original state, just right click – select Group by and choose "Type". Hope you will enjoy this article.