The battery life on Motorola Moto X is advertised as 'all-day' and it is almost true, but taking too many photos, watching videos, playing games as well as its 'always on' features can make your fully charged Moto X powerless in no time. It powers a 2200mAh battery, and has two low power co-processors to support its always-on functions, but if you have not better managed battery, your device became powerless in no time.
Moto X has some features built-in to help you extend its battery life, but most of them are not very understandable for common users. Here is how to go through all those various settings to increase battery life on your Moto X.
1. Enable Battery saving mode:
The Moto X has a Power saving mode. This mode automatically restricts background data when your battery is low. You can enable this option by going to Settings -> Battery -> Battery Saver.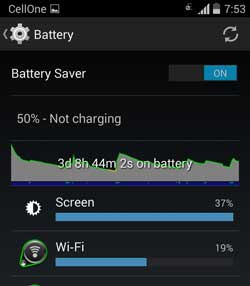 2. Lower the Screen Brightness:
One of the main reasons for destroying your battery life is brightness of your screen. When you don't need a bright screen, simply lower the brightness. Also, by enabling the Automatic brightness feature, which uses the ambient light sensor to automatically adjust the screen's brightness, can save battery life a lot.
You can access brightness settings by swiping down on the status bar, or by going to Settings -> Display -> Brightness.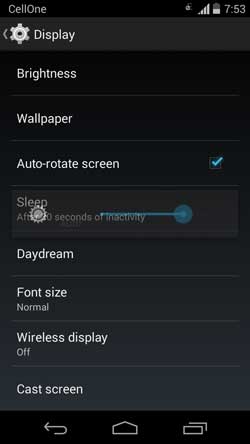 3. Adjust the Screen Timeout Interval:
By reducing the sleep time to a lower level (15 or 30 seconds) can extend the runtime of your device, because the longer your screen stays on, the more battery it consumes. You can set sleep time under Display option.
4. Control Wi-Fi and Data Usage:
Using Wi-Fi will drain your battery significantly less than using your mobile data. It is better to turn off Wi-Fi when you are on travelling as well as you are not in area with an available connection, because your device will check for available networks and waste battery.
Now, if you don't want to turn off Wi-Fi completely you can configure it to save battery. Go to Wi-Fi settings and under "Advanced" option enable 'Scanning always available' option. This will use location data instead of GPS, which will save battery.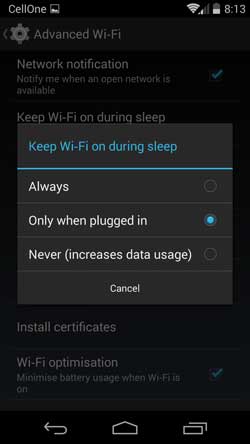 Also, tap on "Keep Wi-Fi on during sleep" option and select "Only when plugged in" or "Never" options for when you want to keep Wi-Fi on during sleep. It will also save battery.
5. Use Airplane Mode:
The Airplane mode will turn off data, W-iFi, and Bluetooth all at the same time. You can use this option when in necessary. To enable this option, pull down at the status bar menu with two fingers and tap on Airplane mode to enable/disable the option.
6. Turn Off Location Services:
This feature is useful for travelling through an unfamiliar road, or finding local restaurants, or checking into Facebook, but these are not always need.
Go to Settings -> Location, tap on Mode and enable the "Battery saving" mode. In this mode, your device will use Wi-Fi and mobile networks to identify your location without using GPS.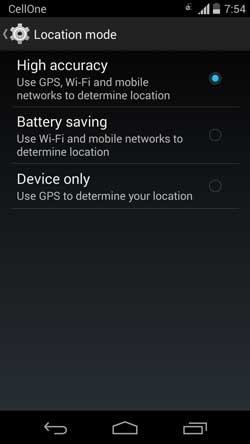 In this same menu, you can also see which applications use the location service. You can disable unnecessary apps from its settings menu and disable location report option.
7. Disable Bluetooth & NFC:
These two options will use lot of battery. Turn of these two when you are not using them. To disable Bluetooth, swipe down on the status bar with two fingers and long-press its icon. To disable NFC, go to Settings -> More -> and uncheck the option NFC.
8. Use a Black Wallpaper:
Your Moto X comes with an AMOLED screen, which means when your device screen is black it requires no power. If you place a black background on an AMOLED display, less light will be produced, thus saving battery on your device.
As you all know, live wallpapers will draw battery current more, so avoiding live wallpaper can save you battery power.
9. Reduce the use of Widgets on home screen:
Widgets like weather, news, etc. automatically updates in the background in order to serve live information. This will drain battery more quickly, so only use widgets that you really need. Also, you can change the update interval of widget from its settings.
10. Update all apps regularly:
An update will fix many bugs and performance of an app. This will also include battery consumption of an app, so always make sure to keep your apps updated.
You can check your app for update by going to Play Store settings under "My apps" section. In addition, you can configure apps to auto update in Settings. Don't forget to choose "Auto-update apps over Wi-Fi only" option.
11: Uninstall all unnecessary apps that use more battery:
Go to Settings -> Battery, and check battery usage for individual apps and processes. If you see an app that is using more battery than normal, uninstall it.
12: If possible, only use ads free and paid apps:
Many free apps are ad supported. According to a latest report, more that 70% of energy is used by ad-supported apps for serving ads and uploading user data. So, if possible, only use paid and ad-free apps.
Hope these tips will help you save battery power on your Moto X. There are several common things that you can follow to save battery. You can find many tips on that topic in this blog.