Microsoft launched a new site called 'The Collection' have it in mind to help people who are looking for a new PC and are not sure which one to buy. The site, 'designed for individuals', brings together a range of Windows 7 PCs carefully selected to suit all your requirements.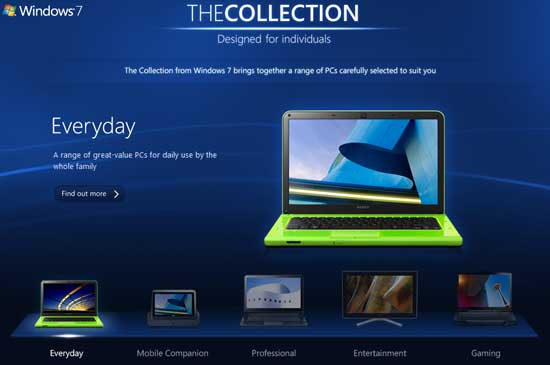 The site gives option to choose a PC category (Everyday, Mobile Companion, Professional, Entertainment, and Gaming), gives detailed specs of PC and provides the required links for customers to buy the actual PC.
Quoting from the site, "there has never been a more exciting time to buy a new PC. Now you can experience the full power of the web with Internet Explorer 9, choose from a wide range models in style, size and color to suit your lifestyle".
"With touch screens and tablets that let you get even closer to your content. Whatever you're looking for in a PC, you'll find it in The Collection, from Windows".
Conclusion: Even though 'the Collection from Windows 7' is intended for users in the UK, users from other parts of the World can also use it, but they will need to find local shops for similar PCs. (via)