Microsoft just released a pre-release version of Internet Explorer 10 for Windows 7 with new features and security enhancements. You can install it on your Windows 7 with Service Pack 1 (SP1) PC and enjoy a fast and fluid Web with the updated IE10 engine. Unlike the previous platform preview of IE10 for Windows 7, this release preview version replaces the Internet Explorer 9 and you can use IE10 as a standard browser on Windows 7, however you can uninstall IE10 anytime.
Internet Explorer 10 for Windows 7 brings several new features to users. As in Windows 8, it brings powerful HTML5 engine to Windows 7, assures better privacy with "Do Not Track" on by default, and offers rich visual effects and more.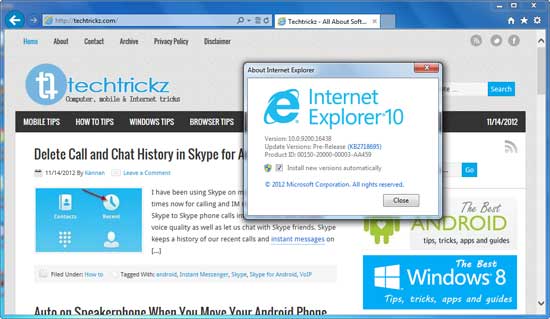 However, it should be noted that, unlike the Windows 8 version of IE10, the browser on Windows 7 does not come with an Adobe Flash plug-in pre-installed. You need to install flash plug-in separately for better performance of flash contents. (Read more on new features of IE10 for Windows 7 here).
IE10 should work reasonably well on Windows 7, but if you ran into any problems, you can uninstall IE10 from your Windows 7 just like uninstalling any other programs.
How to uninstall IE10 and restore IE9 on Windows 7
– Click the Start button, type Programs and Features in the search box, and then select View installed updates in the left pane.
– Under Uninstall an update, scroll down to the Microsoft Windows section.
– Right-click Internet Explorer 10, click Uninstall, and then, when prompted, click Yes.
You can download Internet Explorer 10 for Windows 7 from Microsoft's download center here.