Recently Microsoft has rolled out its Metro interface across all its products (Windows Phone, Windows 8, Office 2013, etc) and websites. This interface change gives users a new experience by focusing more on content rather than hiding them behind icons. Do you like Metro interface? Would you like to bring it to your Windows Explorer? Here is how to bring Metro interface to Windows explorer in Windows 7 (also in Windows 8) with a simple application called Immersive Explorer.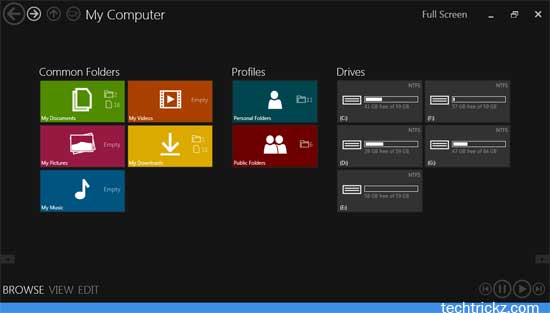 Immersive Explorer is a simple, tiny, dot Net application that brings Microsoft's Metro interface to Windows Explorer (File Explorer) in Windows 7 and Windows 8. It does not need to install on the system. Just download, extract it and run the exe file. That's all.
As you see in the screenshot, we can quickly access commonly used directories very as well as explore the entire file system easily. Also, it avoids the user from having to open different applications and navigate between multiple windows when doing things as simple as viewing a picture.
The application is designed for those who want to give a different touch to their system and want to taste Microsoft's new Metro interface that everyone talks about.
Important Note: Immersive Explorer is in its developing stage, so most features may not work properly and there will have lot of bugs. Interest users can try the application by downloading (below 600KB) it from developer's website.