Scanner Mini is a free app to turn your iPhone or iPad in to a free document scanner. You can use this app to digitize any paper document (bills, receipts, books, magazine or any paper documents) in to PDF files by scanning them with your device's built-in camera. Because of its unique technology, you don't need to take a perfect shot from a straight angle. It detects borders, removes shadows and corrects perspective.
You can use Scanner Mini as a handy tool to scan and archive any paper document into PDF files. It syncs and backed up your scans to iCloud automatically, so your scanned documents are safe even if the device is lost or broken. Also, you can transfer your scans to any Mac or PC via USB cable.
The app has a pro version also and offers more features. With pro version, you can share your scans via email, upload to Dropbox, Evernote and Google Drive, print via AirPrint and even fax.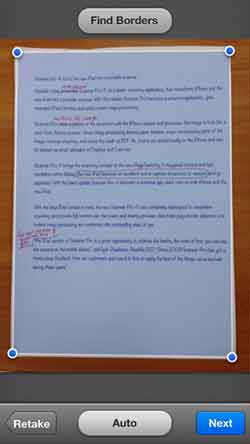 Recommendations for best scanning: Make sure you have enough light. Also, put the document on a flat background with no pattern and use "+" button to create scans with multiple pages.
Scanner Mini works on all iPhones, iPads and iPods Touch and can be downloaded from iTunes Store.