dotEPUB, the cloud based e-book maker that allows you to convert any webpage into the popular eBook document format (epub or mobi) has released a new online tool called dotEPUB Creator to help you make e-book from any plain text. This application serves as a tool for instantly converting any text file into epub or mobi format.
epub and mobi (for Amazon Kindle) documents can be read on any mobile devices that this format support , for example iPad, iPhone, Sony Reader, Nook, Kindle, etc.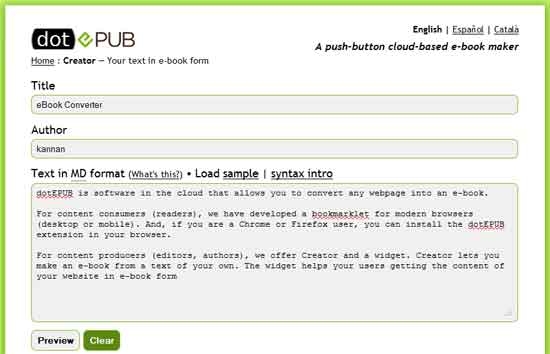 Though this application is very simple in nature, it is able to create professional looking eBook document from a text file by using Markdown syntax. If you don't know about Markdown syntax, you will get quick introduction about it from there itself.
Using dotEPUB Creator is quite simple. Once you enter the title, author, and paste the text in the box, click the 'Preview' button to view the result. If satisfied, you can straightly download your e-book in epub or mobi (if you want to read on Kindle) formats. [via]