If you deleted your conversations on WhatsApp by accident, and now want to restore them, here is how you can simply do that with a new online tool called RecoverMessages. This service lets you easily recover WhatsApp messages or pictures deleted from your iPhone or Android phone and serves as a forensic tool.
To recover your deleted WhatsApp chats from iPhone or Android using RecoverMessages, first you need to copy the WhatsApp database file (.sqlite or .db.crypt) from your device to your PC.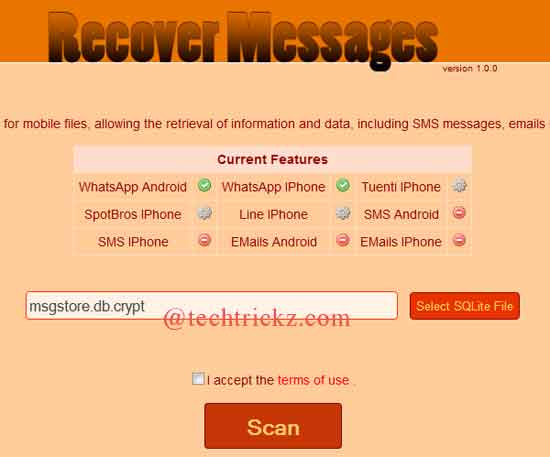 Then, go to the RecoverMessages home page, select the file by clicking the "Select File SQLite". Accept the terms of use and press the scan button.
To copy the WhatsApp database file (.sqlite or .db.crypt),
On Android device, go to /sdcard/WhatsApp/Databases/msgstore.db.crypt and copy the file to your PC.
On iOS, go to net.whatsapp.WhatsApp/Documents/ChatStorage.sqlite (You can use an iPhone backup tools like i-Twin or iPhone Backup Extractor to get the .sqlite file).
Note that, RecoverMessages offers some features are only accessible if you create a personal user account. More details available here.
WhatsApp's own Solution
WhatsApp itself provide a solution to recover your accidentally deleted chats. Because, WhatsApp automatically makes backups and stores them on the SD card you can easily restore your chats.
To restore, just, uninstall and reinstall WhatsApp. Then, click yes when prompted to restore your message history. Your missing chats should appear in WhatsApp! More details available here.