Instagram is an incredibly popular photo-sharing app for iOS and Android device. It allows users to apply many eye-catching effects to their photos or they can transform every snap into a work of art by applying filters before sharing it with friends. All photos uploaded to Instagram are public, so anyone can browse the photos with Instagram app. That's about Instagram.
Do you want to download Instagram photos to your computer? If you are looking for a simple solution, then you may like the little tool Instagram Downloader.
Instagram Downloader is a standalone application for Windows that lets you grab any user's instagram photos to your computer. The application is quite simple to use – just run it, simply enter any Instagram username and click 'Download' button.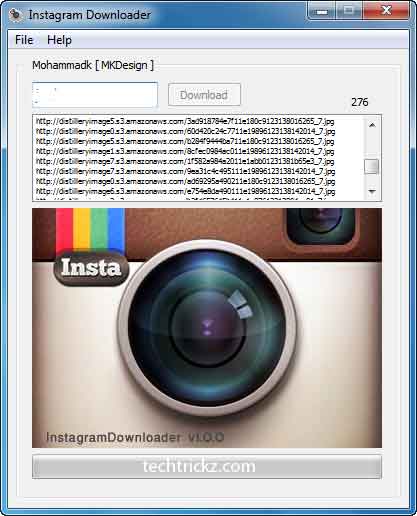 Note: Instagram Downloader is not able to download the 'real photos' to your computer. It grabs URLs of each Intagram photo and save it as a text file in the directory where you run the executable.
To save the photos to your computer, copy and paste each URL in your browser and hit enter button and then save the image to your computer.
Instagram Downloader is a little (664KB) tool. To use it, download and extract the RAR file and run the executable. You can download the free tool at source here.