It is a known fact that we can't view every website's content all around the globe. Many of the big-name content providers such as Steam, Net?ix, Pandora, Hulu, BBC, etc. employ region locks to limit their services to speci?c countries. But as known by all, there are ways around this roadblocks and we can view any content by masking our identity or IP address.
VPN (Virtual private networks) often offer better region-breaking success than free proxy servers do, but if you want to stream content, you usually have to pay for a premium VPN service.
However, note that major services like Hulu and Net?ix can identify IP address offered by most of the popular VPN services and often block access by them.
VPNium is a free VPN service (premium version also available with additional features) that doesn't requires any kind of registration to use. Just download, install it and start.
Usage and installation of VPNium is simple. Just install (required Microsoft .Net Framework 4) and it'll sit in your notification bar. Just right click it and select the desired country. It'll install driver in your PC. Accept the installation and once completed, it'll connect the VPNium.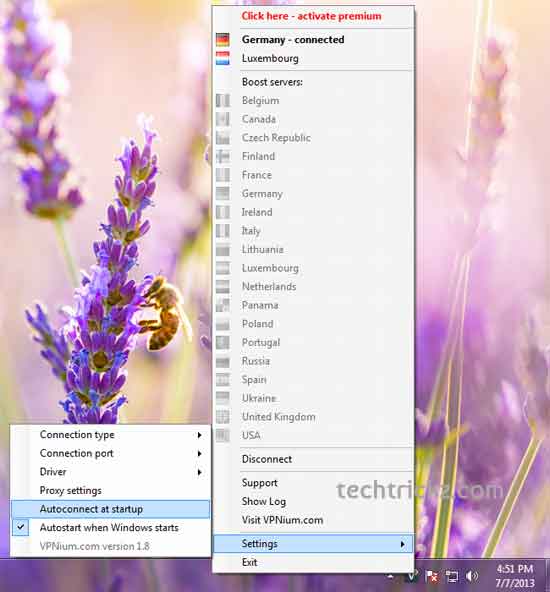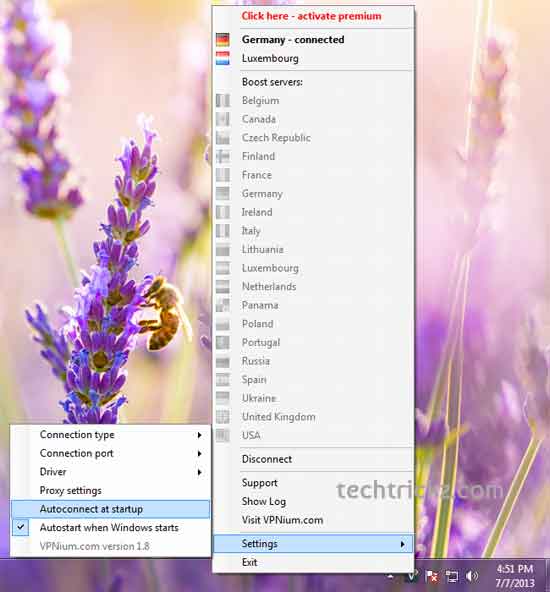 You can enable or disable connection by just right clicking the icon on notification bar or enable with Windows startup. Just start browsing anonymously.
The settings menu lets you choose UDP and TCP connection types, change connection port (Random, 80, 443, 1194), manually install or remove VPN drivers and specify custom Proxy settings.
It offers 256 – bit protection, so you can browse securely and anonymously. Though the free version offers unlimited bandwidth, faster browsing, and zero subscription it provides only limited range of servers available for free usage (i.e. Germany and Luxembourg only.)