The Google Play store is overflowing with some top quality apps and games that enhances and extend the Android experience, but unfortunately, not every apps and games supports all Android devices. If you would like to play games or want to experience apps that are incompatible with your current Android phone or tablet, you may have looked into the Android emulator Genymotion.
Also, if you're an Android developer and looking for a convenient solution to test your apps on different Android versions and in different screen resolutions, you might like this Android emulator.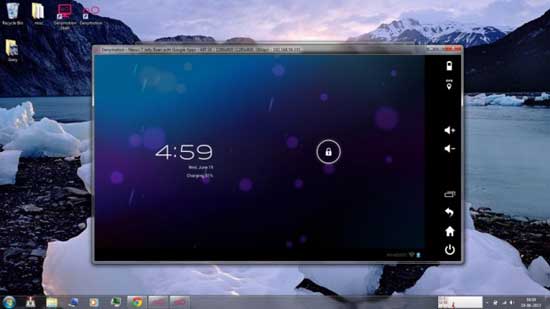 Genymotion brings the Android experience to Windows machines (also supports Mac and Linux), so you can try out Android apps and play with them right in your PC. This Android emulator provides the best Android virtual environment out there and runs pre-rooted Android 4.1.
Genymotion is easy to install and easy to run. The app can be downloaded from developer's website (required signup to download the app) and requires Virtual box installed and functional on your PC to install it.
If you would like to install Genymotion on your Windows PC, I recommend you to visit this XDA thread, there you'll get detailed tutorials along with necessary screenshots, so installing Genymotion would be a cakewalk.
The tutorial guides you through the various steps necessary for the successful installation and setup of Genymotion emulator. This guide also provides various functions and features of Genymotion, such as configuration of the battery level, toggling of the various settings, setting a custom screen resolution as well as setting up and using ADB correctly with the emulator. (Via – XDA)