Add-ons, plug-ins or extensions will certainly give more features to your browser Firefox. But installing many can slow down your browser. Moreover, we can not trust every add-on (see example here).
So, how to prevent others who share your computer, for example your children, from installing unnecessary add-ons?
Just follow the simple tutorial given below to disable installing add-on in Firefox.
1. In the address bar type about:config and hit Enter key and confirm the security warning.
2. Type 'xpinstall' in the Filter field and find 'expinstall.enabled' in the entry.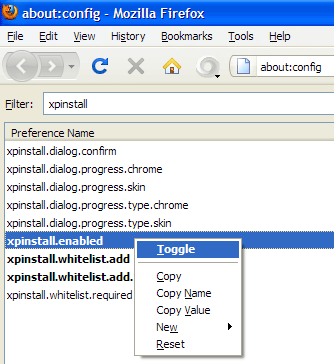 3. Double click or right click this entry and select the context command 'Toggle' to change the value to 'False' and close your browser.
Now Firefox will stop the installation of add-ons without any message. If you want to install add-ons, just reverse the procedure. [Via – Jkwebtalks]