Oxygen-Refit is a pack of 868 wonderful icons in PNG formats (128 x 128 pixels wide) which will be included within KDE4. These beautiful free icons can be used to customize your application, folders, and devices or can be used for your project.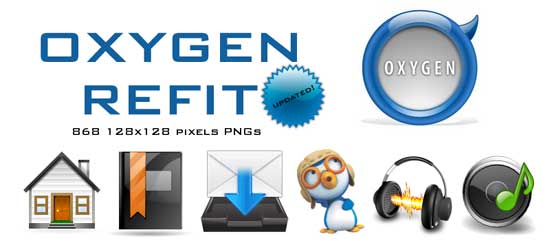 These icons are distributed under the GNU General Public License. Interested readers can download (11Mb) it free at Deviantart.
Kannan
is a computer and Android enthusiast, a blogger by passion and a tech freak. His always ready-to-help attitude, knowledge and hard work is what drives him.
Latest Updates

Kannan | Jan 30, 2015

Keyboard app is an essential part of every smartphone. Without it, the phone is a useless device. However, sometimes your keyboard app stops working and shows "Unfortunately Android keyboard...

Advertisement

Find us on Google +

Find Us On Facebook

How to Guide
Gadget & Mobile

Internet & Browser

Security Tips
Copyright © 2015.The content is copyrighted and may not be reproduced on other websites. Techtrickz.com is not affiliated with any of the device manufacturers listed on this site. All trademarks and images are the identity of respective firm. Use of these trademark and images are subject to their permission.