By reducing the power consumption of a desktop PC, Laptop or Server you are not only saving electricity bill but it could also reduces the CPU overheating issue in the summer season. But how?
The freeware utility Granola is an intelligent power management solution for Windows and Linux systems (Desktops, Laptops , x86 servers) that automatically optimizes a system to use energy more efficiently without compromising performance.
It uses Dynamic Voltage and Frequency Scaling (DVFS) which is available on most modern Intel and AMD processors for saving energy. And it claims that it can lower total system energy use by 10-35% even when a system is 100% utilized.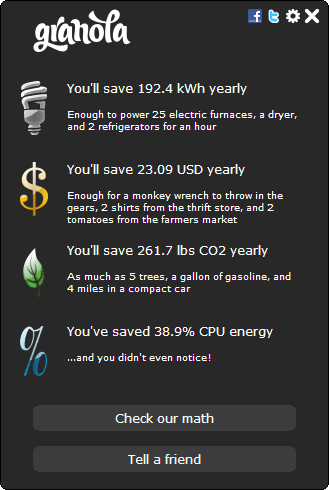 Key Features of Granola:
Energy savings without compromising performance and availability
Supports x86 platforms running Linux and Microsoft Windows on physical/virtual servers
Immediate energy saving for most deployments <5 years old
User-level max, min, and auto energy and performance policy management
User-level reporting of energy savings without additional hardware required
No measurable overhead (<1%).
Energy savings and software complimentary to consolidation techniques such as virtualization
You can download this free energy saving utility at source.