When you're writing an official document, it should be perfect and neat; otherwise it might cause trouble for you later. Even if you proof read your documents many times, still there are chances for missing something.
The free Microsoft Office 2010 add-in (Office 2007 & 2003 are also supported) Grammarly can give a comprehensive report on grammatical mistakes and related problems such as spelling, plagiarism, vocabulary, etc.


The add-on is very simple to use. After installation, just click Grammarly and then Check Grammar button (see screenshot above) from your Word or PowerPoint, it will instantly analyze your document online and let you know the problems.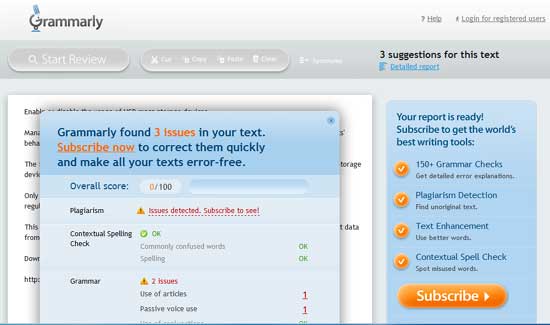 However, this utility will not solve your problems. You need to subscribe and pay to get the answer. Even so, you can make sure that your document is perfect.
Grammarly Add-In requires Microsoft Office 2003, 2007 or 2010. Download the add-on at the source