Finally, Google has also implemented the Do Not Track privacy feature to its browser Chrome. Like the other major browsers such as Internet Explorer, Firefox, Opera and Safari, the latest stable build of Chrome 23 has also lets you opt out of being tracked by websites. Do Not Track (DNT) is a technology and policy proposal that enable users to tell websites that they do not want their internet activities being tracked by advertising system.

Enable Do Not Track (DNT) in Google Chrome.
– Run Google Chrome and click the 'hotdog' (Menu) icon. Then click on "Settings" menu and click the link "Show advanced settings" at the bottom.
– Here you can see an option "Send a Do not Track request with your browsing traffic". Enable this option and click OK to save the settings.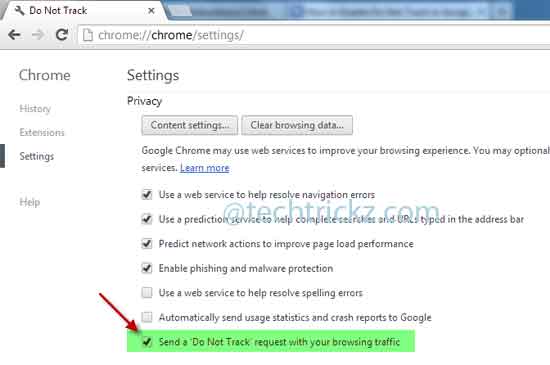 Final word: Do Not Track privacy feature works only if the website actually honors the request. At this time, a few sites do this, and the effect of DNT will have to be evaluated to see if it is a viable solution in the long run.