Because of the limitless content as well as possibilities available online, the internet usage has greatly increased in recent years. But unfortunately, along with lot of good stuffs, there are lot of harmful ideas too. There are thousands of infected and fraudulent web sites on the Internet, with new ones popping up every day. So how do you know if a site is safe to visit? Some people believe that their antivirus program can protect them from all kind of internet threats, but in reality that isn't true, you need some other means of security measures like Norton ConnectSafe and OpenDNS Family shield.


Norton ConnectSafe is a free security solution for both home and businesses and provides a first layer of whole internet protection to guard you, your guests and your kids from unsafe websites, so you can surf, shop and search without worry, safeguard your important data on your computer which can be vulnerable to a virus attack or hacking.
Norton ConnectSafe is actually a DNS service that transfers your traffic through Norton's secure DNS service across the world and provides basic browsing protection and content filtering for all Web-enabled devices on your home network. It automatically blocks unsafe Web sites and safe guards your device when you surf the Web. It does not replace the comprehensive protection of a full security product.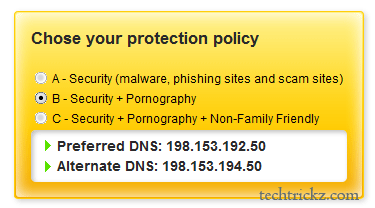 How to use Norton ConnectSafe?
There are two basic ways to use Norton ConnectSafe. You can either setup your router to use Norton ConnectSafe and protect your entire home network (recommended) by going here.
You can set up Norton ConnectSafe on individual computers manually. If you choose to setup Norton ConnectSafe on individual computers, go here and follow the instruction. Mac users go here.
Business users can go here and enable the service at the router level to protect an entire network or hotspot. No additional software or special hardware is required.