Microsoft has released a new service called Office Web Viewer that lets you view Word, PowerPoint or Excel files in your web browser that would otherwise be downloaded. The benefit is that, even if you don't have Office installed on your PC you can view Word, PowerPoint or Excel files using your browser. Also, you can view these files on your smartphone and tablet.
You can easily turn an office document link into an Office Web Viewer link using the service, so you can use it directly in your website or blog – no need to convert them into PDF or HTML for the web use. Users don't need Office on their PC to view it. Also, users can view Word, Excel and PowerPoint from computers, tablets, and mobile phones.
To use Office Web Viewer, go to http://officewebviewer.com and then copy and paste the document's URL in the text box.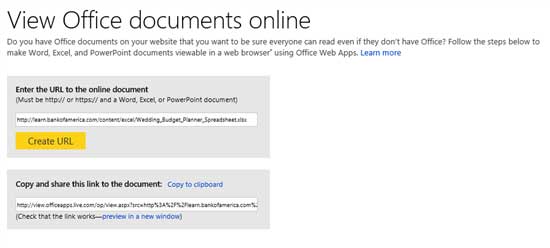 To make the URL yourself, you can use the link below, where is a URL to the document.
http://view.officeapps.live.com/op/view.aspx?src=<Document Location>
Note: The <Document Location> needs to be URL encoded, and the document must be publicly accessible on the internet. (Via)