Are you looking for a way to reset your PC every time you reboot it or want to undo any problems that occurred during the previous session after reboot it, so you always work from a clean slate? Here is how you can simply do that with a freeware solution called Reboot Restore Rx. It works with all versions of Windows and easy to use.
Reboot Restore Rx is useful, especially for public access computing environments such as classrooms, computer labs, kiosks, internet cafes, libraries, etc. However, home users can also make use of its benefit if they want to share their computer with someone who downloads unsafe software, interferes with system settings, and like that.
With Reboot Restore Rx, everything can reset to your desired baseline settings every time you restart your Windows computer (hence Reboot Restore technology).
Setting up and installation of this application is rather simple. When you install it, choose which drive or partition to reset (usually C drive). It will copy your program files to a master image. Restart your PC to complete the installation.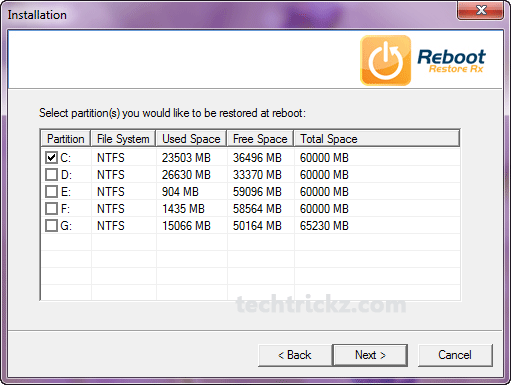 Once restarted, your system will be safeguarded against any unwanted changes (it will be on a recovery environment) you made. As told, it will restore your PC to previous state after a reboot.
Now, when you do want to save the changes you made, right click its icon in the system tray and select restore on reboot to turn it off. Make your adjustment and turn it back on again.
Important: This program has few downsides. The main disadvantage is that if you forget about its running on your PC, you could lose work when you reboot. Also, as it start with your Windows, it slows your startup.
You can download Reboot Restore Rx from developer's website for free.