Whether it is a new PC or an old one, it should have several software programs installed. Moreover, most new PCs come pre-installed with several bloatware apps (utilities, toolbars and other trial software). Unfortunately, not all are useful for every user. What is more, instead of the benefit, most of them make your PC much slower, eats up disk space and reduce overall performance.
Here is an excellent way to identify whether or not you should uninstall a software from your PC. "Should I Remove It" is a lightweight app that works with all Windows versions and helps all people who want to know whether a program should be removed from their PC for good or not.
Installation and usage of Should I Remove It is extremely simple. Download and install the app (download link at the bottom of this post). After installation, run it. It starts scan the PC and lists all programs installed on your PC.
Each program has its own ratings and removal percentage. You can safely uninstall all programs that have higher removal percentage, for instance in Red color.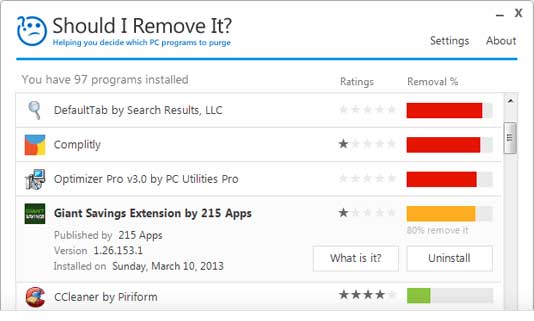 Before uninstalling an app, you can get more details about it. Just click the app name and then click "What it is" button. It will give more details about the program (required internet access).
To uninstall an application, click the programs name and click "Uninstall" button. That's it!
Should I Remove It can be downloaded free from developers website here.