The Chinese Android smartphone Xiaomi has its very own launcher, which features a simple interface to makes everything easy to find. Xiaomi's MIUI launcher has its own dialer app, and phonebook apps, as well as its own lockscreen. Now you can implement MIUI launcher on your phone running Android 4.0 and above with the official MIUI launcher app.
Currently in beta, the new MIUI launcher can be easily installed on almost all Android phones (Android 4.0 and above with 1GB or more RAM) just like any other launcher app, however officially supported devices includes Samsung Galaxy Note 3, Sony Xperia Z Ultra, and HTC One.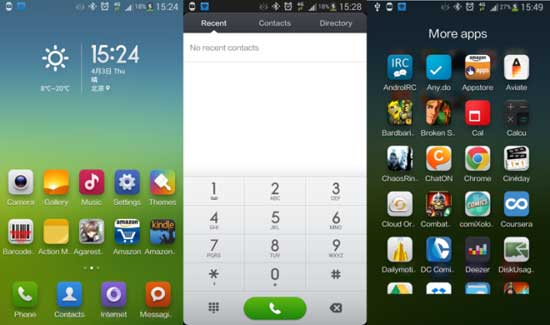 Please note that, it is a beta app and many sections of the user interface are still in Chinese language, however, it is fully functional and runs smoothly. If you are interested, you can download the APK from here, install it and bring Xiaomi smartphone's look and feel on your phone (source).
Now, for Android 2.3 Gingerbread and above users can bring Xiaomi smartphone's look and feel with the help of MiHome launcher. The app can be downloaded from Play Store. Read here to know more about it.