Xiaomi Android smartphone comes with its very own launcher. It gives a fresh look to the phone, has a simple interface and makes everything easy to find. If you are interested, you can bring Xiaomi smartphone's look and feel on any Android phone running Android 2.3 Gingerbread or above with the help of MiHome launcher.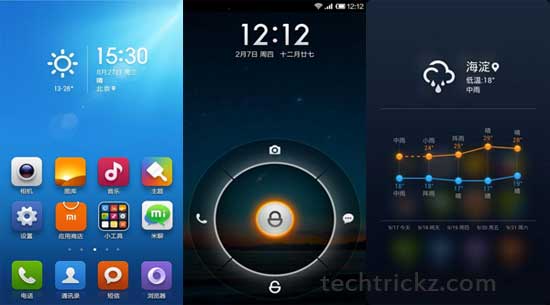 The MIUI launcher comes with the MIUI v5 default theme, but you can customize your phone by accessing huge library of themes, wallpapers and ringtones created from top designers. All themes include icons, status bar style and a lock screen.
Key features of MiHome Launcher:
– It is fast and stable and lets your phone run as efficiently as possible.
– The desktop grid-like layout makes it easy to manage your apps
– It has a sleek and beautiful design – HD custom icons, variety of lock screens and a MiSpace feature that is unlike any other user interface.
– You can personalize your phone by choosing thousands of free themes, wallpapers, ringtones created from top designers.
– Useful functions such as one-click cache clean up key, features that allow you to manage your phone contacts easily and a toggle panel that allows you to switch on or off commonly used functions makes it unique.
If you are interested in MIUI launcher, download MiHome Launcher from Google Play Store and give a try. If you are interested the MIUI lock screen, download MiLocker separately from Play Store.