Incredible StartPage is a cool extension to Google Chrome which replaces your Chrome's default starting page with a customizable view of your bookmarks, reminders and recent tabs.
What makes it interesting is that, with this awesome start page you can easily find your favorite bookmarks, closed tabs and can also take notes as you browse.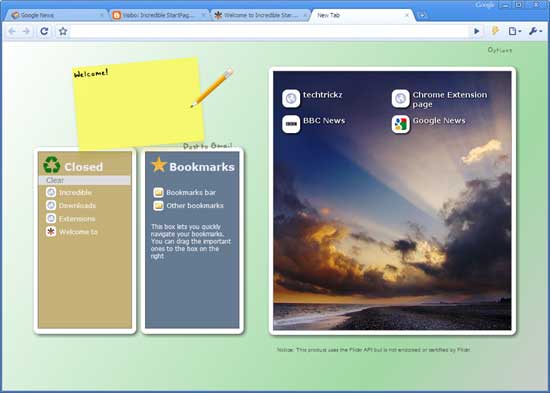 Features Incredible StartPage:
– Customizable color theme
– Easily access your favorite bookmarks in a large frame
– Simple closed tab recovery
– Take notes and post to Gmail in one click
You can download it from Chrome extension page
Kannan
is a computer and Android enthusiast, a blogger by passion and a tech freak. His always ready-to-help attitude, knowledge and hard work is what drives him.
Latest Updates

Kannan | Oct 20, 2014

Trusted Devices is a brilliant feature of Android 5.0 Lollipop. It is very handy if you use your phone with your Bluetooth smart devices such as Smartwatch, Headsets, Car...

Advertisement

Find us on Google +

Find Us On Facebook

How to Guide
Gadget & Mobile

Internet & Browser

Security Tips
Copyright © 2014 - Do Not copy content without written permission. All images and trademarks displayed are property of their respective owners.