Use your iPhone 3G as a compass with free Compass App
By Kannan on Jun 14, 2010
@techtrickz
Compass App is free application for iPhone 3G that lets you use your iPhone as a compass. This navigational or direction determining app uses iPhone's built-in GPS system for this.
This GPS-based compass application pictorially displays the direction you are traveling.
It will give you your Latitude and Longitude values, speed in km/hour and also the angle at which you are traveling.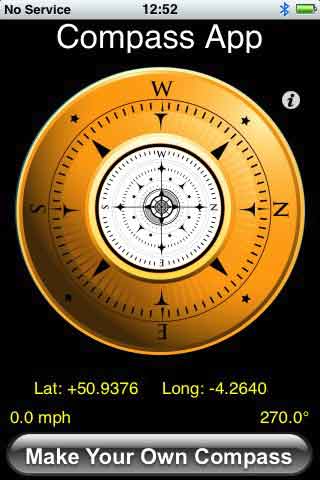 According the developer, this application may take a few seconds to locate you. And also, for this application to work properly, you should be traveling faster than walking speed.
You can download it free at iTunes Appstore.
Kannan
is a computer and Android enthusiast, a blogger by passion and a tech freak. His always ready-to-help attitude, knowledge and hard work is what drives him.
Latest Updates

Kannan | Oct 31, 2014

There might have many situations that you want to take notes during a phone call. Picking a pen and paper while on the phone call is not always viable,...

Advertisement

Find us on Google +

Find Us On Facebook

How to Guide
Gadget & Mobile

Internet & Browser

Security Tips
Copyright © 2014 - Do Not copy content without written permission. All images and trademarks displayed are property of their respective owners.