Explore Files In Windows 7 Via Windows 8 Like Ribbon Interface
By Kannan on Jun 7, 2012
@techtrickz
In Windows 8, Microsoft replaced the tool bar in Windows Explorer with its popular Ribbon interface, which is not only gives easy access to commonly accessed functions, but it also looks more beautiful. This new ribbon interface provides a strip of options that changes depending on what you're doing. If you would like to implement the Ribbon interface to your Windows 7, here is how it is with Better Explorer.
Better Explorer is an open source replacement for the standard Windows Explorer that gives Windows 8's Ribbon Control UI to Windows 7. It is more convenient and provides several tools and functions at your fingertip.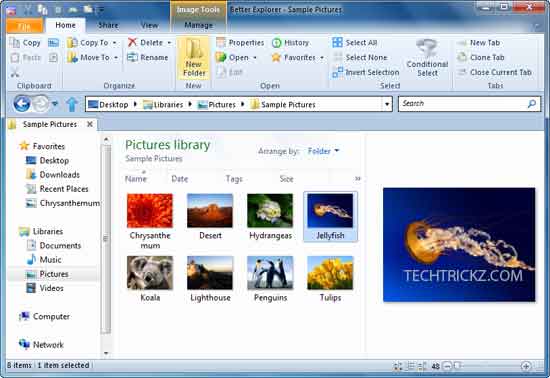 Another advantage of Better Explorer is tabbed interface. As in today's modern web browsers, you can open several different Explorer windows in one window and avoid cluttering up the desktop.
Better Explorer requires minimal set up. Once you have installed the program (requires .NET framework 4 to function, if you do not have it, the installer will offer to download it), you can open the program from start menu or my computer.
Note: As of this writing, Better Explorer is in its development stage. The program isn't an exact clone, but has a similar look and lots of smart features. Moreover, it only works with Windows 7.
Better Explorer can be downloaded from developer website here.
Kannan
is a computer and Android enthusiast, a blogger by passion and a tech freak. His always ready-to-help attitude, knowledge and hard work is what drives him.
Latest Updates

Kannan | Dec 19, 2014

While Galaxy Note 3 users are waiting for the Android 5 Lollipop update, a few users have received Android 5.0 OTA update for Note 3 N900 Exynos version. According...

Advertisement

Find us on Google +

Find Us On Facebook

How to Guide
Gadget & Mobile

Internet & Browser

Security Tips
Copyright © 2014 - Do Not copy content without written permission. All images and trademarks displayed are property of their respective owners.