Windows 7 taskbar monitor is a simple system monitoring utility for Windows 7 that sits in the taskbar and gives at-a-glance system performance info.
You can see CPU usage, memory usage and network activity of your computer by just looking at the taskbar. So you can instantly take necessary action if anything going wrong.
According the author the program is designed by the inspiration of iStat Pro, a similar application for Mac OSX.
Windows 7 taskbar monitor is very simple to use. No installation required. You can run the app multiple times and set each one to monitor a different value.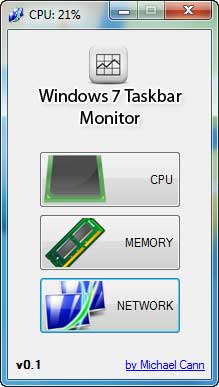 Note: To see each one separately on your taskbar you have to do a little change to your taskbar property. Right click the taskbar and select Properties.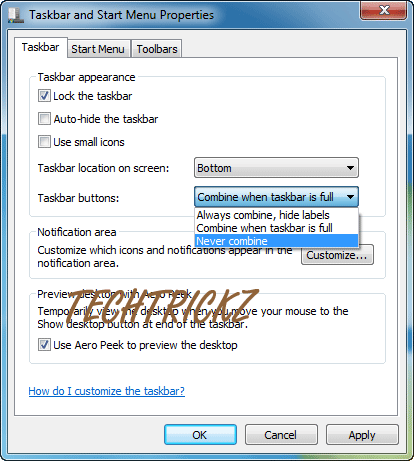 Under taskbar (see screenshot above) click the 'Button' tab shown against 'Taskbar location on screen' and select either 'Never Combine' or 'Combine when taskbar is full' and save your settings.
If you have interested you can download it at http://code.google.com/p/win7-taskbar-mon/