Google has updated Google Gesture Search, an app for Android device that lets users instantly find contents (apps, contacts, bookmarks, music, etc.) by just drawing letters or numbers on the screen. This new update brings many new features including a UI makeover and performance enhancements.
A most notable change in this new update is its performance improvement. The search is now impressively fast and greatly simplified. Users can find apps, contacts, settings, music, bookmarks, etc. on their device instantly. It continuously refines search results as you add each gesture, and becomes better as it learns from your search history.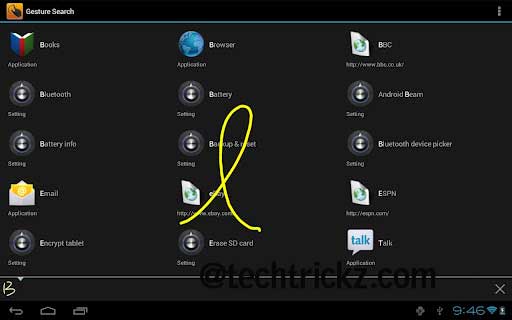 Below are some of the new features of Google Gesture Search:
-Supports Android tablets.
-Faster search performance for large user data set.
-Support for searching multilingual contents using romanization, including Simplified Chinese, Dutch,French, German, Italian, Polish, Portuguese, Russian, Spanish, and Turkish.
-The action for contacts is now customizable, e.g., changing calling to messaging.
-Contacts without phone numbers now became searchable.
-More UI improvements.
New users can install the app from Play Store. After installation, run the app and start typing to find contents. To customize the app, bring up the Settings menu by taping your device's menu button.
From the settings menu, you can specify the writing speed, activate the sensitivity of the Double Flip motion gesture, specify what data types you want to include for searching as well as clear the search history and turn on or off gesture data collection.