Do Not Disturb is one of the best feature of iPhone that lets you suppress all incoming calls and notifications at crucial moments – either automatically or manually. Though there is no direct Do Not Disturb function for Android yet, there are several apps to enable the same function in Android.
Llama – Location Profiles is one of the best free app to enable Do Not Disturb function in Android. If you want to keep your phone ON but not have it disturb you at crucial moments, download it from Play Store and set it so that your phone works out where you are and changes your ringer, vibrate and ringtones accordingly.
This app uses phone masts (cell tower) to determine your location, so that you can change your ringer, vibrate and ringtones depending on where you are as well as the time of day. You can also use Wi-Fi-based location tracking and time based profiles.
Below is a short description on how to use cell tower to determine your location.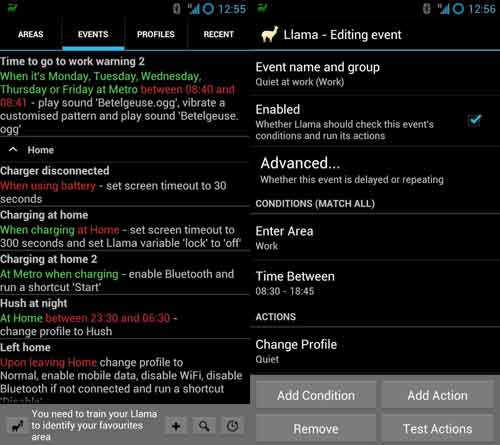 For proper working, you need to train Llama to recognize the areas you care about. By default, it gives two locations: Home and Work. However, you can add more locations like "School", etc.
To train Llama, tap the Areas tab, long-press a location (Home, Work, etc.) and tap "Start Learning Area". For instance, if you are at home choose "Home". Keep in mind that you'll need to be physically present at home.
Llama provides several pre-configured sound profiles, so you can quickly switch between quiet, loud, silent and normal sound settings. You can create events and home screen shortcuts to manage your sound profiles:
– Silence your phone at work
-Turn your Bluetooth on ready to connect your headset for a morning run
-Set your phone quiet when it's late at night and you haven't gone out
-Start the music player when a headset is connected
Note: Whole features may not work well in areas where a few cell towers. Also, if your home and work place or school are under the same cell tower, it'll not work. This will work best if you live in a populated area. You can also try the experimental Wi-Fi-based location tracking. If that still doesn't work, you can remove the enter/exit conditions to make time-based profiles.