Learn how to pair two Android phones via Wi-Fi Direct to transfer big files from one device to another at blazing speed. Wi-Fi Direct is a wireless technology that enables users to connect two or more devices directly. There is no need for users to be connected to a hotspot or network. However, this technology will be available on devices running Android 4.0 ICS and greater.
As know by all, Bluetooth is the oldest method for wirelessly transferring files from one phone to another, but the transferring speed is slow. It'll take ages to transfer a GB of file. Wi-Fi Direct technology offers high-speed data transfer without having to go through an access point and at a greater range.
How to pair two Android phones via Wi-Fi Direct technology?
1. Enable Wi-Fi Direct on both the devices by going to Wireless & Networks menu under Settings of your device.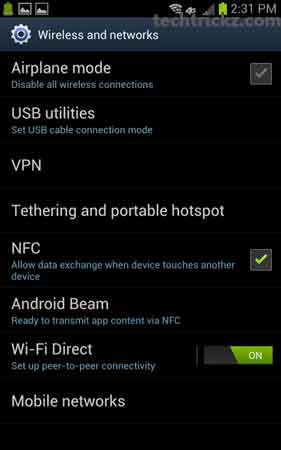 2. Switch on Wi-Fi and select Wi-Fi Direct from the menu. It will start searching for other devices.
3. The second device will display the name of the other device. Tap the name of the device to peer the devices.
4. The receiving device will now have a message on screen named Invitation to connect. Accept the invitation.
5. When a device is connected, the status of both devices will change to connected.
6. To share a file, folder or app, tap the related item, then Share icon (or Send via button) and select Wi-Fi Direct from the list. Note that Wi-Fi Direct will only appear on supported devices.
Note: Not all ICs or Jelly Bean Android devices will have Wi-Fi Direct technology built-in. If this option isn't there in your device, it means you device will not support this feature.