Samsung Galaxy S6 lets users easily remove or disable most pre-built or bloatware apps without root access. Many of these apps are not likely to be used by most users, so they are called bloatware apps. Therefore, you can simplify your app drawer by removing the se so called bloatware apps from the Galaxy S6.
Of course, the Galaxy S6 has less bloatware apps, but it is almost certain that most users will not want to use many of the bloatware apps on their Galaxy S6. For example, you might not use apps like OneDrive, OneNote, Skype, Books, Newsstand, Games, Google Plus, S Health, S Voice, so you can remove them to make your app drawer streamlined.
Besides the streamlined TouchWiz user interface, Samsung's latest flagship phone, the Galaxy S6 comes with some amazing features. It has metal body, Gorilla Corning Glass 4 protection, 5.1-inch qHD AMOLED display, 64-bit, fast loading Octa-core processor and available in 32GB, 64GB and 128GB storage capacities.
Removing bloatware apps from Galaxy S6 is a simple process and requires no root access. Read on to know how to remove/disable bloatware apps on Galaxy S6.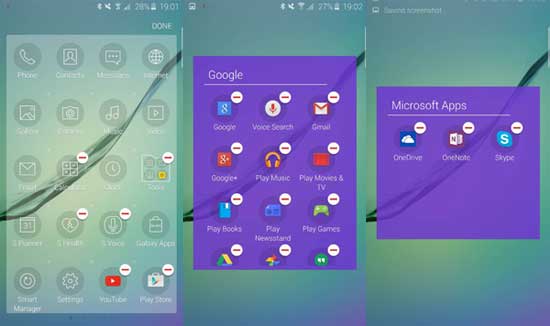 1. To remove pre-installed apps, go to the app drawer and hold the Recent Apps button. It will launch the launcher menu.
2. Select "Uninstall apps". All the apps that can be uninstalled will have a minus sign at the top. Delete all the apps you want.
In this way, you can remove many bloat apps. For example, you can remove Microsoft's OneDrive, OneNote, Skype, all Google apps like Books, Newsstand, Games, Google+ and Samsung's own apps like calculator, S Health, S Voice, etc. (source – XDA)