Android users can now install Firefox OS apps on their phone. Firefox OS apps are essentially open web apps built on HTML5, CSS and JavaScript. They appear just like native apps on your Android phone and once installed they will show up in the App Drawer as well as in the Recent Apps list. In addition, you can uninstall and update these apps.
For your information, Firefox OS is Mozilla's attempt to attract users away from Google's Android and Apple's iOS. Unlike Android and iOS, the Firefox OS is built on the HTML and JavaScript coding language developers use to create websites. This means the apps for Firefox OS will run on the web as well as on the phone.
Install Firefox OS apps on Android
1. To install Firefox OS apps on Android phone, you need to install the latest version of Firefox for Android (ver. 29) browser.
2.After installing Firefox for Android, go to phone Settings -> Security and enable "Unknown Sources".
3. Now, go to Firefox Market place, choose an app and install it.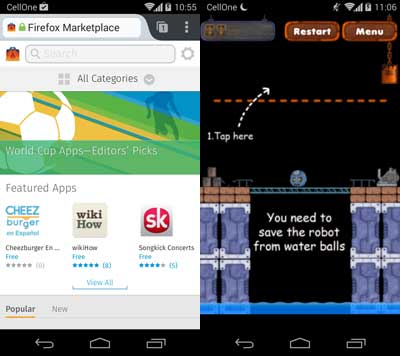 4. You can uninstall these apps just like any other APK apps. To do so, go to Settings -> Apps, select the app, and uninstall it.
It is said that web apps are less than optimized, so their performance on your Android phone may not be up to the mark. However, interested users try these web apps and leave your views in the comment section below. (source)