Desktop version of YouTube has an option (manual and auto) for changing the video playback quality for watching the video without any choppy playback on slow internet connection. Now, Google has added this feature to YouTube for Android enabling you to change playback quality depending on your Internet connection speed.
Until now, YouTube for Android allows you to choose standard & HD video playback only, but the latest update (version 5.7.38) added more playback quality options such as 144p, 240p, 360p, and 720p (HD). It is very useful for users with slow Internet connection or short on data to watch YouTube video without any choppy playback.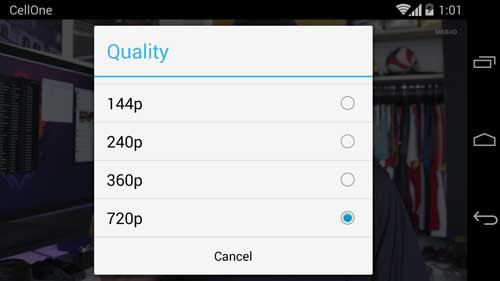 To change playback quality for smooth playback, update your YouTube for Android app to the latest version (5.7).
– Now, while watching a video, just tap the options button (3-dot button).
– A cogwheel appears in the middle of the screen. Just tap it to change quality.
– Choose desired video quality depending on your connection speed: 144p, 240p, 360p, and 720p.
Currently, the app doesn't has an 'auto' option as in the desktop version of YouTube for automatically changing the playback quality depending your Internet speed. Also, there is no 1080p or 4K options as well.